Camp Nou Stadium Guided visit
Camp Nou Stadium Guided visit
with Brunch and Skip the line ticket
Experience the home stadium of FC Barcelona, visit the Museum to learn all about this legendary team and have a nice brunch at Sala Roma.
You might be interested in...
Barcelona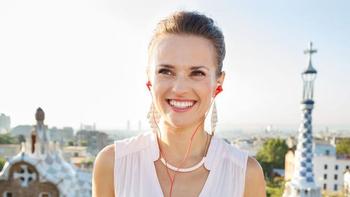 Vox City: Barcelona Self-Guided Sightseeing Tours
Your way. Your pace.
About this experience
Begin the visit from the office of Julià Travel in a coach towards Camp Nou Stadium.
You will start on the first floor of the Museum, which was renovated on June 12, 2010. This is a modern museum with large-format interactive walls, new showcases and a wide collection of objects that reveal the history of FC Barcelona and explain the values that have made Barça "more than a club". The Camp Nou Experience retraces the steps of players that have made history, such as Kubala, Cruyff, Maradona, Guardiola and Ronaldinho, among others, and visitors can feel the true Barça passion by visiting the most emblematic areas of the Camp Nou: including the visitors' changing room and the tunnel onto the pitch, from where a panoramic view of the whole stadium can be enjoyed. At this point any Barça supporter dream comes true as they sense just what it is like to be a Barça player. You go on to visit the television studio, the mixed zone, the pressroom and the press box.
The tour ends on the second floor, where you can visit the fascinating Multimedia space, which was renovated in January 2010, and which has been received enthusiastically by members and visitors.
Experience details
How to use the voucher
Cancellation Policy
Cancel up to 1 day in advance for a full refund
Additional Information
VOUCHER TYPE: PRINTED VOUCHER (E-voucher not accepted)
- For structural reasons, and due to the large number of staircases on the tour, the Camp Nou Experience is not accessible for people with physical disabilities.
CHECK IN TIME: 09:45 AM.
ARRIVAL POINT; F.C. BARCELONA MUSEUM.
(*) EXCEPTIONS:
According to the schedule of matches, training sessions or special events FCB reserves the right to change the schedule, routes or close part of the museum tour.
Supported languages
What's included
• Air conditioned motor coach
• Bilingual guide specialized in soccer.
• Transfer from Julià Travel office to F.C.B. Museum coach (one way only).
• Entrance and guided visit to F.C.B Museum.
What's not included
• Transfer from F.C.B Museum to city center.
• Food and drinks, unless specified.
• Hotel pickup and drop-off.
Meeting Point
Julia Travel office, Estació del Nord, ground floor, platform 19