Cenote Extreme Experience
Cenote Extreme Experience
with Zipline Adventure
Spend a day filled with adrenaline and fun. Book now the extreme adventure tour in the Mayan jungle with Globol.
You might be interested in...
Cancún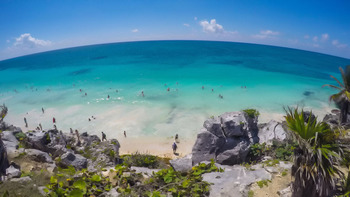 Snorkeling at Grand Cenote at Tulum
Departure from Cancun
Cancún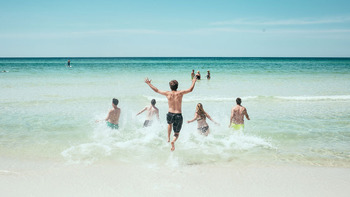 Cenote, Tulum and Coba Paradise Beach Tour
1 Day Trip
Cancún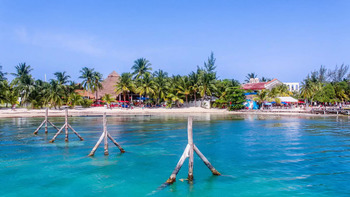 Day tour to Isla Mujeres
with lunch and open bar
About this experience
Combine the majesty of swimming in the waters of an authentic Mayan sinkhole (cenote), and the energy you'll get by going through paths among the jungle on board of an ATV. You will also try the zip line, to feel pure adrenaline and fun through the air. During the tour, we will provide you with all the necessary equipment to perform all the activities of the day, and all the tricks and tips to get the most out of this amazing day!
To start your day, you'll go through a set of different hanging cliffs and zip lines. You'll have to use all your skills to finish the trip among the trees and sliding over a 300 meters line, which is one of the longest across Riviera Maya.
After getting off the zip lines, you'll get into the Mayan jungle, crossing its different paths and observing the flora and fauna of the area.
Next, you'll jump in an ATV's and get an amazing 6 KM tour inside the jungle and its paths, where you'll discover the "Chilam Balam" cenote and its half-open shape.
Mayans considered sinkholes as a sacred place being their closest connection to the underworld. Enjoy a refreshing swim in the crystal clear waters of one of them to finish your day and reach some deserved relax in this uncontaminated paradise.
Experience details
How to use the voucher
Cancellation Policy
Cancel up to 1 day in advance for a full refund
Additional Information
• Spend a day filled with fun and adrenaline
• Swim in the waters of an authentic Mayan cenote during your stay in Cancun
• Combine extreme fun and nature, enjoy this astounding views of the wild nature
• For the zip line, the maximum weight per person is 100 kg
• You must be 16 or older to drive the ATV
• This tour is not recommended to pregnant women, people with recent lesions or back and joints issues
• For safety reasons, this tour is not recommended for kids under 7 years old
Supported languages
What's included
•ATV for 1 passenger
• Insurance
• Guide
• Entrance and optional swim to one sinkhole
• Lifeguard jacket
• A circuit of zip lines and hanging bridges
• 1 bottle of water or soda, and a snack
What's not included
• Optional gratuities
• Additional meals and drinks
•Everything not explicitly mentioned in the description
Meeting Point
Pick-up and drop off at your hotel or apartment. Please contact for more details.