Mosque-Cathedral of Córdoba Fast-Track Tickets
Mosque-Cathedral of Córdoba Fast-Track Tickets
Enjoy skip-the-line entrance and Guided Tour of the Mezquita
Visit one of the world's most spectacular ecclesiastical buildings in Spain. Enjoy an unforgettable tour with an official guide.
You might be interested in...
Cordoba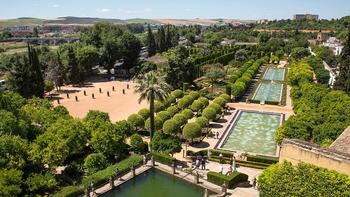 Guided Tour Cordoba in Depth
Guided tour
Cordoba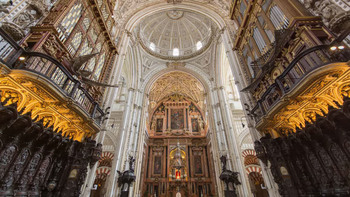 Cordoba Monuments Tour
with tickets to monuments
Cordoba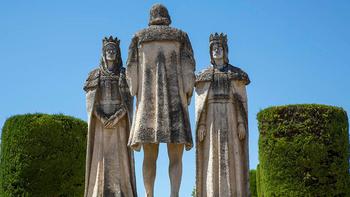 Alcazar of the Christian Monarchs
Guided tour
About this experience
Book our special tickets and admire the stunning beauty of the Mosque-Cathedral of Córdoba during this 1-hour guided tour.
Meet our official tour guide, discover the secrets of this incredible cathedral and experience a masterpiece that combines Christian and Arab art.
In fact, it is considered one of the most important expressions of the Arab and Islamic art and, nonetheless, a great work of Gothic and Renaissance Andalusian Art.
It was originally a Christian Visigoth Church dedicated to Saint Vincent. When Muslims occupied Córdoba, the building was split into two parts in order to be used both Christians and Muslims.
Subsequently, Emir ʿAbd al-Raḥmān ibn Muʿāwiya ordered to tear down the Christian Church in order to build a proper mosque.
The Mezquita of Córdoba is shaped like a quadrangle from around 130 meters in width and from around 180 meters in length. It included 19 aisles and 856 columns with different styles of capitals.
You will admire the Main Altar of the Cathedral built in 1627 which is similar to the altar made by Juan de Herrera for the Church of the Monastery of San Lorenzo de El Escorial.
Don't miss the maqsuramihrab (apse) with other decorative highlights.
In 2010, the Spanish Bureau of Engraving and Printing dedicated a Commemorative 2 Euro coins to the Mosque-Cathedral of Córdoba: a fair tribute for one of the most incredible Spanish monuments of all time.
Experience details
How to use the voucher
Cancellation Policy
Cancel up to 1 day in advance for a full refund
Additional Information
Please, come prepared and we recommend wearing comfortable clothes and shoes. • Correct dress code is requested to enter the monuments. It is not permitted to enter with tank tops, strapless shirts, short shorts or sandals.
Supported languages
What's included
Entrance tickets to the Mosque-Cathedral of Córdoba
•Guide
•Headphone system to hear your guide
What's not included
•Transportation to and from the attractions
Meeting Point
Patio de los Naranjos, next to the radioguide Vox office. Look for the guide with the blue umbrella.