Sassi di Matera Walking Tour
Sassi di Matera Walking Tour
with Expert Guide
Explore the UNESCO World Heritage Site of the Sassi di Matera and discover this incredible human settlement, perfectly integrated into the natural landscape
You might be interested in...
Matera
Bread of Matera: an ancient tradition
Guided tour
Matera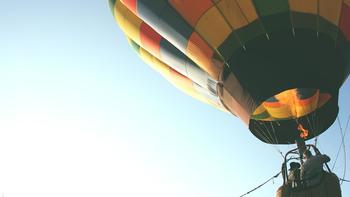 Hot Air Balloon ride above Matera
Unforgettable experience
Matera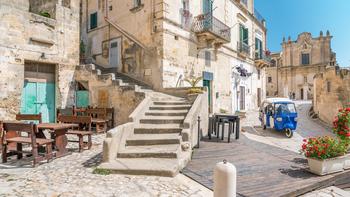 Ape Calessino tour around Matera
Guided tour
About this experience
Explore Matera with this 2hour walking tour of Sassi. This unique city in the South of Italy is the European capital of culture for 2019, and Unesco site, for the cultural and natural heritage its preserves.
Follow us and discover the Sassi di Matera: one of Italy's most unique, yet still off-the-beaten-track views. The maze of solitary dwellings date back to prehistoric times and were continued inhabited until the 1950s when the new city was built.
Today, the area is a UNESCO World Heritage site and has been the scenic setting of a lot of movies, including Mel Gibson's The Passion of the Christ.
The Sassi di Matera are divided into two distinct districts—Sasso Caveoso, where the older homes give a genuine taste of cave life, and Sasso Barisano, where many of the caves have been redesigned as hotels, restaurants and souvenir shops. The best way to live Matera is on foot, making your way through the narrow alleyways, and highlights include a range of cave churches with beautifully preserved frescos.
And, after the walking tour, we will treat you with an authentic Italian aperitif!
Our friendly and qualified guide will go through the following itinerary:
Itinerary:
-Vittorio Veneto square and stop on the memorial.
- Picturesque route full of little street and alleys to reach Via Fiorentini.
- Rocky church of Sant'Antonio Abate.
- History of Sant'Agostino monastery.
- Via Madonna delle Virtù and Pistoia door, called in dialect "Pert P'stèl".
- History of San Pietro Caveoso church.
- Cave House with traditional furniture.
- Local craft.
- Pascoli square on the landscape of Sassi.
- Tasting of local food.
Experience details
How to use the voucher
Cancellation Policy
This experience is non-refundable
Additional Information
Starting Point: Church of Purgatory, in Ridola street
Indicative Itinerary:
-Purgatory Church, Sasso Caveoso, Museo Domenico Ridola, Lanfranchi's Palace, Pascoli's Square
-St.Peter's Square: Madonna of Idris
-Cave House and Museum of rural inhabitants (showing off the reality of "Christ stopped at Eboli" book)
-Rural Church
-Historical Winery of the 1700s
-Location of Calvary in the "Passion of Christ" Mel Gibson's Movie
Supported languages
Deutsch, Español, Italiano, English
What's included
Expert Guide in the chosen language
Guided 2hrs tour
Entrance fees to the cultural sites and monuments
City Map of Matera
What's not included
Everything not explicitly said in the inclusions and description
Meeting Point
Via Alessandro Volta, 3, Matera