Louvre Museum Skip-the-Line Tour
Louvre Museum Skip-the-Line Tour
with French Breakfast
Visit the world-famous Louvre Museum avoiding the crowds! Start the day with a traditional French breakfast on the terrace of a spectacular café and enjoy a 1.5-hour fully guided tour of the Museum with a local guide
You might be interested in...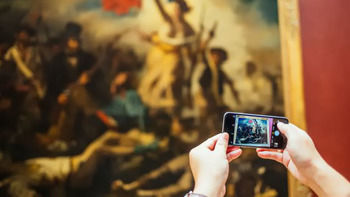 Paris Louvre Museum Guided Tour
with Skip-the-line Tickets
From $72.11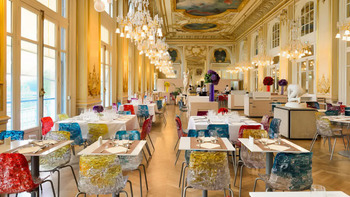 Musee d'Orsay Guided Tour
with optional gourmet lunch
From $127.48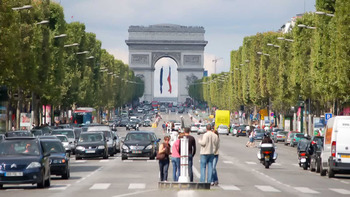 Arc de Triomphe Guided Visit
with Fast-Track Ticket
From $33.27
About this experience
Visit the world famous Louvre Musuem in the most relaxing way possible; savor a delicious French breakfast on a spectacular café terrace overlooking the glass pyramid of the Louvre before joining your guide for a 1.5 hour tour of the major highlights.
Most people agree that a trip to Paris must include a stop at the Louvre Museum. Most people also agree that nearly 10 miles of hallways featuring over 35000 works of art make for a demanding visit, even for experienced museum-goers! Start your visit in the most relaxing way possible; savor a delicious French breakfast on a spectacular café terrace overlooking the courtyard and glass pyramid of the Louvre. Then join your expert local guide for a 1.5 hour guided tour, allowing you to stroll in past the long linesand enjoy the highlights of this awe-inspiring museum and the masterpieces it contains.
Before your visit, begin your day in a relaxed and typically French way – enjoying breakfast on a café terrace. And this is no ordinary terrace, this magnificent and chic café sits directly inside the Cour Napoleon of the Louvre, offering you sublime views over the Iconic glass pyramid as the museum opens for the day. Savor typical French viennoiseries with fresh fruit salad, freshly squeezed orange juice with coffee or tea. Relax and enjoy the food and the views, before your local guide leads you past the famously long lines and directly into the museum for a 1.5 hour guided visit.
Home to some of the world's greatest works of art, there's a reason that millions of visitors flock to the Louvre every year. Yet a visit to this great museum can often be a challenge; long lines and innumerable rooms can result in you wasting your precious vacation time and missing the main attractions. Join one of our guided tours, and let an expert and fully accredited local guide take all the stress out of your visit. You'll skip the lines and bypass crowds, to focus instead on the beauty and universal themes on display
You will of course meet the world's most famous painting, the Mona Lisa, and learn some of her many secrets. Discover also the beautiful Venus de Milo, the spectacular Winged Victory, the great French neo-classical paintings and the works of the Italian Renaissance. But there are also many hidden treasures to be found in the Louvre. Your guide will show you crowns studded with precious jewels, ancient Egyptian antiquities, sublime Greek statues and much more.
Before becoming the largest museum in the world, the Louvre was once a palace, home to the French royal family. You will visit magnificent rooms whose sumptuous decorations bear witness to this – rooms built for Kings! The grand scale and rich decoration will astonish you as we end our tour in the State Apartments of Napoléon III, in a wing many visitors don't manage to discover. Make the most of this extraordinary museum, join our tour and let our guides make your visit one of the highlights of your trip to Paris.
Experience details
How to use the voucher
Cancellation Policy
Cancel up to 1 day in advance for a full refund
Additional Information
Please advise any specific dietary requirements at time of booking
A moderate amount of walking is involved
Note that increased security measures may affect lines as we cannot avoid them. However due to our Skip the Line privilege, we do have access to shortcuts to the security check.
Vegetarian option is available, please advise at time of booking if required.
Wheelchair accessible
Supported languages
What's included
Continental breakfast at a café overlooking the pyramid of the Louvre
1.5 hour guided visit of the Louvre
Reservation and entrance tickets to the Louvre
Fully licensed, English-speaking tour guide
Small groups of 25 people or fewer
Coffee/tea and non alcoholic beverages with breakfast
What's not included
Hotel pick up/drop off
Gratuities (optional)
Meeting Point
Meeting point: By statue of Louis XIV on horseback in front of the glass Pyramid in the main outdoor courtyard of the Louvre Museum. Nearest metro Palais Royal Musee du Louvre Drop-off/End Point: Your tour will end in the Louvre Museum