Ticket bus tour Rome Hop On and Hop Off Big Bus
Ticket bus tour Rome Hop On and Hop Off Big Bus
Marvel at the monuments of Rome
Marvel at the wonders of Rome from an open-top bus and learn more about the history of Rome using the recorded commentary.
You might be interested in...
Rome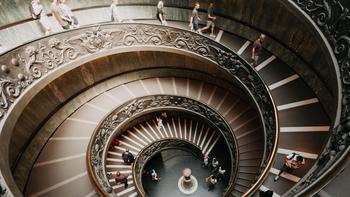 Reserved entrance tickets: Vatican Museums and Sistine Chapel
Entry tickets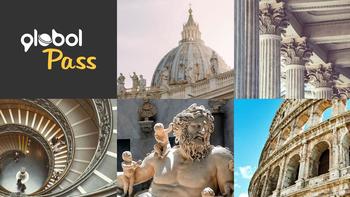 Rome Globol Pass
You have not to visit all of the attractions on the same day: we will arrange everything for you.
Rome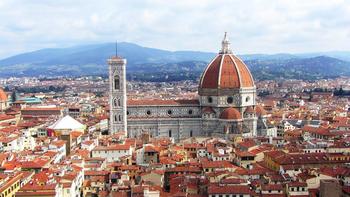 Day trip to Florence from Rome by bus
Guided tour
From
$134.35
New on Globol
About this experience
Big Bus Rome offers a comfy and creative way to discover the most beautiful spots of the Eternal City.
This double-decker bus will bring you easily and fast to the best attractions and viewing points of Rome. Do not miss the chance to see the must-sees easily and the best way.
Take the chance to enjoy great panoramic views on some of the most amazing and worldwide famous attractions, comfortably seated on your Big Bus, free to hop on and off at your own pace in order to live the City at your best.
You will also have the chance to live the experience to its fullest thanks to our pre-recorded commentaries in some of the most spoken language in the world. This way, professional speakers will explain and entertain you with the History of all the monuments found along the way, and give you a deeper perspective on this Masterpiece of Culture and History. Why not take part also to one of our walking tours? They are already included in each of the available packages and will give you at least a little taste of the best spots, monuments, and attractions so that you can save time and relax a little bit more. So, what are you waiting for? Hop on Big Bus Rome, we run all day, every 10 mins! We will take you everywhere!
Enjoy our 3 solutions to let you discover Rome the best way with this bus tour.
3 different tickets, 2 different routes, 1 panoramic night tour:
Classic, Premium, and Deluxe
REDLINE ROUTE DETAILS (High APR-OCT/Low Season NOV-MAR)
Termini: first 8.30 am, last 7 pm (High season)//9 am, 6 pm (Low season)
Basilica S.Maria Maggiore: 8.40 am, 7.10//9.10 am, 6.10 pm
Colosseum: 8,52 am, 7.22 pm//9.20 am, 6.20 pm
Circus Maximus: 8.53 am, 7.23 pm//9.25 am, 6.25 pm
Piazza Venezia: 8.58 am, 7.28 pm//9.29 am, 6 pm
Vatican-Castel S.Angelo: 9.18 am, 7.48 pm//9 am, 6.46 pm
Trevi fountain-Spanish Steps: 9.34 am, 8.04 pm
CATACOMBS/PURPLE ROUTE DETAILS
Termini: 9 am, 5 pm
S.Maria Maggiore: 9.10 am, 5.10 pm
Colosseum: 9.24 am, 5.24 pm
Porta S.Sebastiano/Museo Delle Mura: 9.34 am, 5.34 pm
Catacombs & Church of S.Sebastiano: 9.44 am, 5.44 pm
Caffarella Park: 9.54 am, 5.54 pm
Domine Quo Vadis Church: 9.57 am, 5.57 pm
Baths of Caracalla: 10.03 am, 6.03 pm
Circus Maximus: 10.07 am, 6.07 pm
Piazza Venezia: 10.11 am, 6.11 pm
Experience details
How to use the voucher
Cancellation Policy
Cancel up to 1 day in advance for a full refund
Additional Information
REDLINE: every day, every 10-20 mins, first ride 8.30/Last 18.00 (low season) or 19.00 (high season). Lasts 1.5 hours.
Colosseum-Piazza Venezia-Vatican-Castel S.Angelo-Trevi Fountain-Spanish Steps
CATACOMBS LINE- PURPLE ROUTE: every day, every 60 mins, first ride 9.00/last 17.00. Lasts 1.10 hours.
Colosseum-Catacombs of San Sebastiano-Via Appia Antica-Baths of Caracalla-Piazza Venezia
PANORAMIC NIGHT TOUR: Starts at Termini bus stop. Lasts for 1 hour. Please ask our staff about daily departures, it is arranged according to sunset.
Colosseum-Piazza Venezia–Castel Sant'Angelo
WALKING TOURS ITINERARIES:
-Piazza Barberini and Spanish steps: Spanish Steps and Barcaccia fountain, "vicoli" of Rome.
Tour starts at stop #8 Barberini Square, at 5 pm. Lasts 1 hr, ends at Hard Rock Cafe Rome, Via Veneto.
-Pantheon & Piazza Navona: Castel S.Angelo, Piazza Navona, Pantheon.
Tour starts at stop #6 Vatican, at 2 pm. Lasts 1 hr, ends in Piazza Venezia
-Roman Forum & Colosseum: Piazza Venezia, Altare della Patria, Fori Imperiali, Roman Forum and Trajan's Market, Colosseum.
Tour starts at stop #5 Piazza Venezia, at 3.30 pm. Lasts 1 hr, ends at Colosseum.
-Vatican: Castel S.Angelo, Vatican City, St.Peter's Square.
Tour starts at stop #6 Vatican, at 12 pm. Lasts 1 hr, ends in St.Peter's Square.
*all walking tours are leaded by an English speaking guide
*Make the most of your day by asking our friendly guides for tickets to local attractions and enjoy an exclusive discount for all Big Bus Tours customers.
Supported languages
Français, Deutsch, Español, Italiano, Português, English, Русский, عربي , 中文
What's included
CLASSIC TICKET:
-One Day Hop-on Hop-off Big Bus Ticket
-4 Walking Tours
PREMIUM TICKET:
-Two Day Hop-on Hop-off Big Bus tour on all lines we offer
-4 Walking Tours
-Catacombs Line (purple line)
DELUXE TICKET:
-Three Day Hop-on Hop-off Big Bus Ticket
-4 Walking Tours
-Catacombs line - Purple line
-Night tour
What's not included
-Anything not explicitly mentioned in the description
-Food and drinks
-Entrance fees to monuments all along the Big Bus path
-Pick up and drop off in different locations from the above mentioned stops