LGBT Friendly Spanish Night: Tapas Dinner and Flamenco Show
LGBT Friendly Spanish Night: Tapas Dinner and Flamenco Show
Enjoy the traditional gay district in Valencia
Enjoy the vibrant nightlife of Valencia! Live an unforgettable experience in the best gay district in the city and admire a traditional Flamenco Show while tasting some typical tapas!
You might be interested in...
Valencia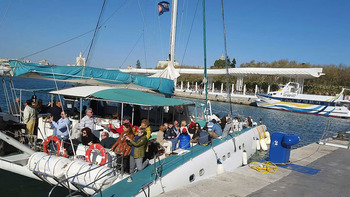 Sailing Trip and Tapas Dinner in Valencia
with Flamenco show
Valencia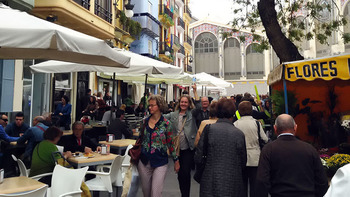 Valencia Food Tour
with Wine Tasting
Valencia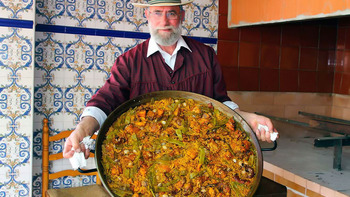 Paella in a Farmhouse Experience
Enjoy authentic Valencian food
About this experience
Prepare your senses to pleasure in a lovely tapas dinner in a gay-friendly bar at the Plaza de la Reina. One of the liveliest area in the city, full of bars, restaurants and concert venues. It is one of the most characteristic places in El Carmen, the legendary and fabulous gay neighbourhood in Valencia. Sitting at your bar table you will enjoy the best views of the Cathedral and its bell tower they call the Micalet.
This bar has more than 50 years of history on its shoulders. There was a woman here, her name was Violeta and she attended a grocery store; following the example of her mother and grandmother. In these stores were sold many products from "overseas" communities, such as coffee, spices, and other imported products. For this reason, they were also known as "colonial store" or "colmado".
After some years, Violeta's son inaugurated an original tapas bar where the spirit of the old "colmado" is realized. The design is evocative of the traditional family shop, with its shelves full of select goods, an old scale presiding over the marble counter, the hams and sausages dangling from the ceiling, the walls covered with the traditional Valencian ceramics and so on. In this bar, there is a unique atmosphere that breathes the Valencian culture and the smells of good cuisine. All entrees are made with selected fresh products and the family-run business dedication!
During your dinner, you will enjoy a variety of typical tapas such as Iberian ham and cheeses, anchovies, eggs with ham, spicy potatoes and the celebrated cod croquettes! This pleasing selection will be accompanied by a notable Valencian wine.
Enjoy the Spanish mood while you delight your palate with the best Valencian flavors.
Then will be the time for the Flamenco Show!
The LGBT friendly night goes on! When you finish dinner you should go to the "tablao" that is just 15 minutes walking from the bar. You will arrive at the petty venue to enjoy an authentic live flamenco performance.
Livi this intimate and memorable experience where you will really feel the passion and the intensity of the artists! You will be hooked up by the heartrending "cantes" (songs) and the captivating dances. But surely you will get excited by the unmatched chords of the Spanish guitar, touched by the hands of top-level musicians.
Feel the charm of genuine flamenco art in a 1 hour performance without interruption, while you chill out with a glass of beer or sangria.
Let's join this LGBT friendly night in the best Spanish style: live an unforgettable experience!
Experience details
How to use the voucher
Cancellation Policy
Cancel up to 1 day in advance for a full refund
Additional Information
Available for all LGBT+ community: lesbian, gay, bisexual, transgender, queer people.
Both activities should be done on the same day.
THURSDAY
19:30-hs. Tapas dinner in a gay friendly bar. You must go on your own.
21:00-hs. Be at the Flamenco Show entrance.
22:00 – 23:00-hs. Flamenco Show performance.
FRIDAY AND SATURDAY
20:30-hs. Tapas dinner in a gay friendly bar. You must go on your own.
22:00-hs. Be at the Flamenco Show entrance.
23:00 – 24:00-hs. Flamenco Show performance.
SUNDAY
18:45-hs. Be at the Flamenco Show entrance. You must go on your own.
19:45– 20:45-hs. Flamenco Show performance.
21:00-hs. Tapas dinner in a gay friendly bar.
Supported languages
Français, Deutsch, Dutch, Español, Italiano, 日本語, Norsk, Polski, Português, English, Русский, عربي , Ελληνικά, Svenska, Türk, עברי, Suomalainen, 中文, 한국어/조선말
What's included
-Tapas dinner: Iberian ham and cheeses, Anchovies, Eggs with ham, Spicy potatoes, Cod croquettes. 2 beverages/person (includes wine)
-Flamenco Show entrance fees with 1 drink/person (beer or sangria)
What's not included
-Additional/different tapas or drinks to those that have been detailed
-Transfers from/to your accommodation
-Particular additional expenses
-Gratuities
Meeting Point
Colmado La Lola" Tapas Bar. Bordadores, 10 street. 46001. Valencia
Flamenco "Café del Duende". Turia, 62 street. 46008. Valencia