Dinner Show in Venice
Avanspettacolo
Enjoy an incredible gala dinner with singers, dancers, acrobats, and musicians in Venice. An unforgettable evening is waiting for you. Book now!
You might be interested in...
Venice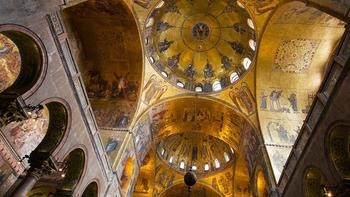 Exclusive Alone In St. Mark's Basilica After Hours
Guided tour
From
$100.91
New on Globol
Venice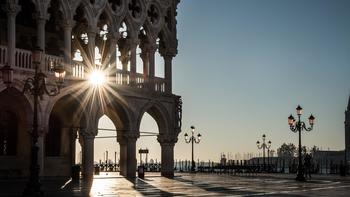 Skip the line: Doge's Palace tour
Guided tour
Venice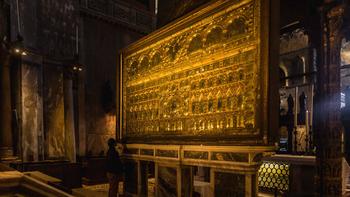 Skip the line: The Saint Mark's Basilica guided tour
Explore the Golden Basilica with a local guide
About this experience
Discover the magic of the First Dinner Show in Italy!
Avanspettacolo invites You to the most exclusive party in Venice!
Experience an elegant, refined and tastefully designed location, creating the perfect setting for an unforgettable evening in Venice.
From 8 pm to 9 pm Welcome Cocktail with drinks and delicious titbits prepared by our Chef accompanied by the classical notes played by the master pianist.
From 9 pm onwards the Gala Dinner and the Grand Show Magic take place in the magnificent Theatre Hall.
The excellence of our cuisine and the refinement of the Wine List combined with the international variety Grand Show Magic will carry You in a unique sensory journey.
Dancers, singers, musicians, acrobats, and contortionists will enchant you for two
and a half hours with musicals, Cabaret and high-class performances suitable for
all ages.
Culinary creations, sets, costumes, lights, and colors for an unforgettable evening.
Join our party!
Experience details
How to use the voucher
Cancellation Policy
Cancel up to 1 day in advance for a full refund
Additional Information
- Avanspettacolo is located in Venice mainland (10 minutes away from Piazzale Roma).
- Gala Dinner choice among Landfare, Seafood, Vegetarian or Vegan Menu.
The menu includes a starter, a first course, a second course, a dessert, coffee, water and 1/2 bottle of wine per person.
- Grand Show Magic suitable for all ages.
- Elegant dress code.
- Pets allowed.
- Free parking.
Supported languages
What's included
- Entry to the cabaret
- Welcome Cocktail
- The Gala Dinner (starter, first course, second course, dessert, coffee, water and 1/2 bottle of wine per person)
- The Grand Show Magic
- Free cloakroom service
- Free parking
What's not included
- Transfer
- All other extras
Meeting Point
Avanspettacolo is located in Venice mainland (10 minutes away from Piazzale Roma)